English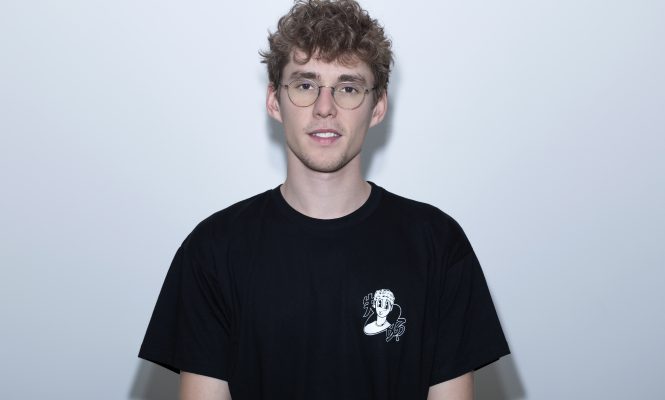 [INTERVIEW] LOST FREQUENCIES
"It stays a little more melodic, but it goes a little more electronic"
Interviewer : Daehwa Lee, Binna Kim
Translator : Binna Kim
This year on Tomorrowland's main stage, when Lost Frequencies played his hit song, 'Reality,' the crowd that got together from all over the world started singing along with happy faces. Now, 'Reality' has become an anthem that everybody who's a dance fan already knows. The song has over 500 million views & streams on YouTube & Spotify/Apple Music. Given the current tendency of the scene in which people want dance music to have more acoustic sound and pop melodies, his music is gaining more and more popularity. He was ranked 17th in this year's DJ Mag Top 100 poll, rising 9 places up from last year. His ranking was the highest among the artists who pursue tropical and deep house.
DJ Mag Asia met him at Armadas press brunch during the ADE, and we had a deep conversation about various subjects, such as the behind story of 'Reality,' his collaboration with James Blunt on 'Melody,' his acoustic guitar works, his label 'Found Frequencies,' etc. His way of talking was so gentle, just like his music.
Q. What kind of activities have you done and are you still planning to do in this year's ADE?
A. I just did this morning a panel with Netsky a producer from Belgium. Also we did a track together and we showed how we did the production with people watching connected to the computer with big screens. We showed how we did the production, how we met, what's the whole process of doing the track, and it was actually pretty fun. Then today I have all day interviews. Tonight I am going to parties left and right to see everybody, and doing them back to back also; a surprise guest. Then tomorrow I have to go back to Brussels because I have to work on some stuff, but then I come back Saturday for the AMF.
Q. Which event are you looking forward to?
A. Well for me AMF is going to be the first time playing, so I'm really excited I guess. It's gonna be very special. So I guess I'm looking forward to it.
Q. What do you think is the most attractive point of Amsterdam?
L: For ADE, there's all the ADE events. It's really crazy.  When I did a panel today, I was seeing all the planning and I was like "wow, I want to stay here the whole day, but I have to go." The city is really beautiful, you can just walk around everywhere, which is amazing. They have good food. People are nice.
Q. There aren't many things revealed about you before 'Are You With Me'. Would you tell us about you before you became famous? What kind of life were you living at that time and how did it change?
A. So, I was a student. I was studying all the time, but I was in my 20s so I was studying economics. I wasn't truly going out a lot. I was more staying in my room making music. And, now I'm doing the other thing, I'm going out a lot. Doing less music because I have all those gigs. But it changed a lot. I get to see a big part of the world. I went a lot to Asia this year, which is really nice. I went to China, I went to Japan, I went to South Korea. I went to Vietnam. I went to Myanmar. I went to Thailand.
Q. How did you feel when you were in Korea?
A. In Korea, it was great. Korea is nice. I had a great time. I was actually with Chris, the guy that booked me in Korea, which was a Korean guy. He was right here with us this morning, we went to eat together because we stayed in contact and he's a really nice guy. We went to Seoul, we went to grab Korean barbecue, which was really great. We went to see a few clubs, and we didn't want to see the clubs, we went to see the owners of the clubs like Soap, and we talked to the guys. Soap is like the new start they have. Casa Corona? which was also really nice. It was fun, and that was last week. So, yeah it was nice.
Q. 'Are You With Me' and 'Reality' are also popular in Asia. Would you tell us about some behind stories regarding the producing of this track?
A. So 'Are You With Me' is really basic production stuff. If we open the program and show you it would be like 15 tracks because I sampled actually the original version which is a country track really slow, you can listen to it. It's Are you with me from Easton Corbin It's really slow. I play it in my DJ sets because I think it's really funny to do it. So I sampled the track, I put a kick and a bass in it, some keyboards, and the track was done basically. It was really when the deep house vibe was coming up. It's really like this guitar, pure guitar vibe was really big. So I did that and it became really big, and then Janieck, the singer from 'Reality' contacted me and he was like 'oh, I really like 'Are You With Me', maybe we can do something together.' And so he sent me a small demo, and worked on the whole track and we released 'Reality' and then it also became really big and I was like 'whoa, everything is going crazy right now.'
Q. You didn't imagine that before, at that time, that this would become….
A. No, because for me this music was really intimate kind of music, I didn't expect it to be played on big radios and to be played by big DJs, so everything was suddenly going really broad, really big, I could say it's famous in Asia. It's crazy. I mean, think about it, I did it at home in my room. It's nice. I didn't expect that.
Q. The title of the 1st album 'Less Is More' seems to express the simpleness of your music. What was your intention to put this title on?
A. Well, the production for 'Are You With Me' was really simple. If I show the program, it's really easy. So that is the less part, but the more part is the track, even though it was a really easy production, everybody knows it. Everybody knows the track. And that makes it more, so was like 'Less Is More'. I didn't go into a crazy production mixing kind of process, but the track became really big, and I think it shows that if you do it at the right moment, with the right sound, and you do it how you're supposed to do it, not go to crazy about it, that can be an amazing success. And I think that's what happened with 'Are You With Me' and 'Reality', and that's why I named the album like that.
Q. In your music, we can hear lots of guitar sound. Is there any reason for using especially the guitar?
A. I'm a really big fan of guitar sounds. It can make you happy, it can make you sad. It can have a lot of vibes with it. Also, the thing about guitar is that a lot of electronic music is made with synthesizers, with keyboards, and I really like to fight to incorporate the guitar sounds in it.
Q. In your music, you put lots of importance to the real instrumental playing, lives and vocals. Many people say this is the future of EDM. What do you think about it?
A. I think you really have to be careful about talking about the future because you never know. I think the future of electronic music for me right now is kind of blurry, because there is techno scene that is really taking over right now. The techno scene is really taking over back in the popularity. Then you still have guys who love the melodies and the big buildups. I just think the EDM scene is really getting apart, a lot of people trying to find their favorite category in electronic music. Some prefer trap, dubstep, or some drum and bass, some techno, some melodic deep house. People get their different vibes. People like their different kind of music anyway, but I don't know about the future. I wish.
Q. You collaborated with James Blunt in 'Melody'. How was the collaboration with him?
A. It was really cool. He was a really nice guy, and he still is. But it was really nice to work with him. We did the video clip. He was really accessible. It was like being a star. I really enjoyed it. It was great.
Q. Would you give us a brief introduction about your label 'Found Frequencies'?
A. So, Found Frequencies is my label. You can send demos to [email protected] Demo without an 's.' I'm really trying to release music that I play in my sets that are not music that I would make, something different, but something that I like. It could be anything. It could be an acoustic track of a guy singing with a guitar. It's not just electronic music, but for the moment, it's electronic music.
Q. Tell us about the upcoming singles if you have planned to release any. And also about your future plans.
A. So, now I'm going to release an album, I was hoping before 2018, but now it's getting a little bit tight. So, I think it's going to be beginning/mid of 2019. I'm going to plan everything and do some nice, because nowadays we have to do really good promoting stuff, promoting album. And, I have to finish a few tracks now. And it's like I did before. A lot of guitars, a lot of melodics, but it's more electronic sounds this time because I went a lot on tour and I feel like sometimes people that really want to party harder so I try to put a bit harder, and that's what happened on the album. It stays a little more melodic, but it goes a little more electronic, so I am really excited to share this with everybody.
Q. Give us a word for all our DJ Mag Asia readers.
A. I want to say thank you to everybody for coming out to the shows, because I've been coming for the last three years now, but I feel like this year we took it to another level. A lot of people came more to the shows, and a lot of people knew the music, singing along to other tracks than my two big hits which was really nice. For the whole set you saw the party was going on, and that was really really nice. So I want to say thank you to everybody. Also, all the promoters for having me, all the guys who are sharing the music, all the music apps, all the guests and all the fans for coming to the shows and listening to the music, and you guys for having me here.