Features
[INTERVIEW] JUSTIN OH
"Justin Oh is my really name. It's hard to change"
Words: Daehwa Lee, Ariel Jo
Korea's first and the most passionate artist to release a track at Spinnin' Records and collaborate with various artists. He is a creative musician, who always strives for growth and development by performing unique music in every performance and venue. Justin OH has recently changed his genre into bass music, becoming a new artist on the label Monstercat.
Unlike other artists working with new names or new brands when starting new music, Justin OH's self-confidence and philosophy, which says that the entire performance is on his shoulders, was enough to impress his music fans. On November 22, we could hear his honest story at Monstercat's first party in Korea with Delta Heavy, which took place at Hongdae club Henz.
Q. Although you performed music on a fairly popular label and achieved a lot of achievements, I don't think that much is known about your history. When did you start music?
A. I started music when I was very young. I used to play the violin in orchestras and bands and other instruments. I discovered EDM with Armin van Burren. I saw him play for the first time and that was like WOW! Everything changed. I started to write and produce music pretty early. When I came to Korea, I worked on music and made a song. That song was called 'Wait For You' and Paul Oakenfold ended up playing it on BBC radio 1 which was a very big deal at the time because there was not a lot of Asian Djs' music being played in Europe especially. Once that happened, in Korea people started to take notice in festivals. Ultra approached and invited me to play and that's how everything started with me.
I am more than a musician than a DJ. I like to produce many different genres. Good thing about Monstercat is I get to play many different genres. It's all excepted and encouraged. So, it very liberating artistically.
Q.  So, it doesn'tmean you are only doing base music?
A. No. I would not stick to one genre. But there are stories and styles in music I want to do within bass. I feel like other genres I've done already and there's new exciting wave in the underground music that is a lot more exciting to me right now.
Q.  At this point, could you criticize the album <The Time Traveller> by yourself?
A. Actually it's funny. I listened to that album yesterday. I like to do that, sometimes I listen to the old music and see how far I become. To be honest, I love that album. It is a very selfish and a greedy album. It was everything I wanted to make for myself. It wasn't really for the other people. That album is always going to be very special because I was with a good label that let me do whatever I want and that's what came out of it at the time. I wish I was a better singer, it would have sounded better. I sang 4 of the songs.
Q. In 2017, youreleased 'Jekyll & Hyde' in Spinnin' Records. Spinnin' Records is a label that everyone looks forward to. How did you feel about it?
A. Actually it's a funny story. I went to Amsterdam for the ADE with my management team. I remembered we went to the meeting and we were even late, I couldn't find the right address to the place. Usually those are really bad things. Also, we only had one song prepared. That's a tip. Never have only one song, have many songs. I think that was amazing. As soon as we played it, their A&R right away said "Ok, we are going to sign it!" And funny thing is my manager turned off the music and started to talk about the business, and they wanted to hear the rest of the songs.
That song came from a little bit of experiment. The genre is not big room, not dubstep or electro. It's kind of like Asian future trap bass pop music. I think that's what people really were interested because it was very unique and different at that time. I am very happy how turned out and obviously, working with Hyorin from Sistar was amazing. Her voice was amazing and she killed it.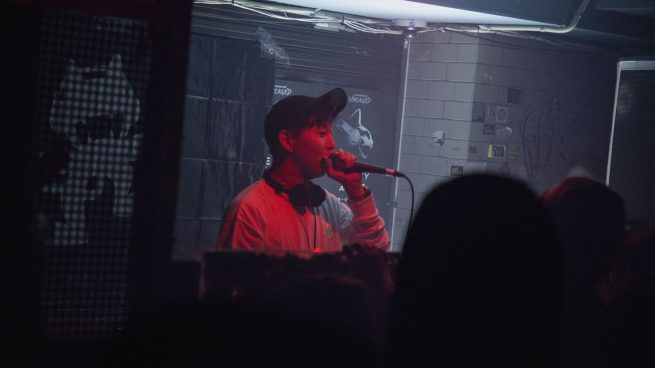 Q. You must have experienced the things of maintaining a global label. What's do you think that made them such a big label?
A.I don't really know, because I'm not a label manager. But these really big labels obviously have good marketing and a good team. More important is they are always looking for the next new sound and new talents not doing the same thing over and over. I think that's what people are really interested.
Q. You've working in progressive house or big room past days and recently changed genre to base music. Why did you change the genre?
A. You want to hear the real truth? The real truth is I got tired of Djing in clubs for VIP people. I remember one time Djing in a club and they asked me "Can you play me Zedd?" So I said "Yes, sure. If you want me to play, I won't come back then". Then they said "yea, play it". So, I played it and never came back.
I think there is something missing in the electronic music scene in Asia. Even though it's big, there's a lot of culture and subculture missing. I grew up and discovered electronic dance music as a subculture before David Guetta collaborated with Black Eyed Peas, like huge pop songs. So, I wanted to do something back towards that and try to create something like that for the internet digital generation.
Q. Why did you choose base music? Is it because you liked it?
A. Really cool thing about bass music and trap is that their roots of 150-160bpm come from either hip hop or punk rock music which is the music I grew up with. I love techno, progressive techno and deep house. Especially in Korea, there was opportunity because there was lack of bass music.
Q. This was such a big change in your musical career. Why didn't you make another name or doing side projects?
A. If I could, I would probably wear a helmet, but my head is too big. To be honest, I just want to be truthful and honest with my artistry. Justin Oh is my real name. It's hard to change that. Aside from that, we built a full story that goes much deeper than just me. It's not about me, it's about something bigger.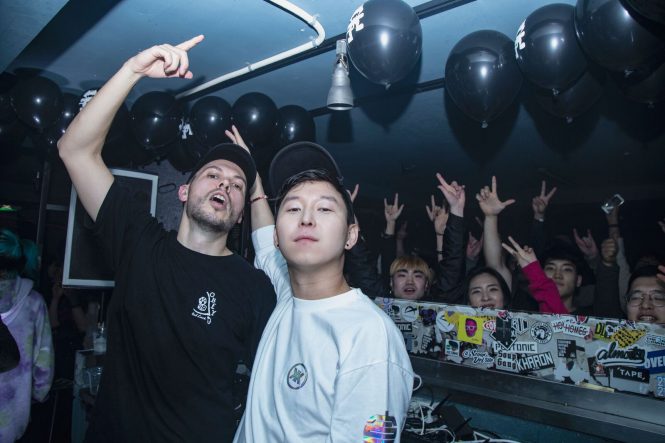 Q. The music video "She's A Killer" features the sentence "Welcome To The City Of Oz." In terms of the lyrics, it feels like a virtual world of dystopia.
A. I think we will find out next year when everything raps up. Everything about it is already out. If it is not out, I can't really say too much. Next year, everyone will know.
Q. Why Justin Oh is not playing in the clubs in Korea?
A. To be honest, I spent a lot of time preparing the show. Because it is not just playing music, I need to think about the story and everything. Really a lot of work goes into one show. I don't want to repeat the show again. So, I can't do lot of shows in Korea, not just in Korea, same with other places. Because I don't do lots of shows, each one is special, each one is different and all adds to the big picture.
Q. How are you these days? Tell us about your recent activity and future plan.
A. Just very busy, very good and excited for tonight. I have really big projects, preparing for the next year. Right now, we are preparing for the end of the year tour. We are going to tour China and India. Also, I made a lot of solo tracks. I am going to mix up the solos, some remixes and collaborations with other big artists.