Features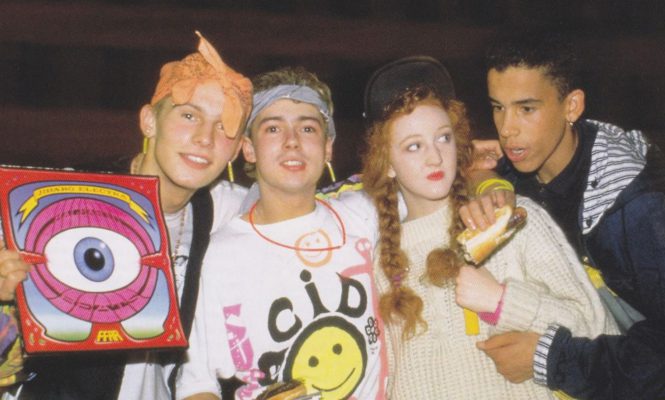 30 years of acid house
This year marks the 30th anniversary of the birth of one of the biggest movements of electronic music as we know it
Words: MARTIN VANNONI & HERNÁN PANDELO
It's thirty years ago this summer that acid house was created: an electronic music style that influenced virtually all DJs in the late 1980s and early 1990s. Doubtless, it was a turning point for electronic music. To celebrate the occasion, we decided to look back and go over the artists, tracks and labels that laid the groundwork for this incredible music style. But first things first: as the name describes, acid house is a subgenre of house music, a genre that had been prevalent in clubs for a few years, with stalwarts such as Frankie Knuckles, Ron Hardy and Lil Louis, all of whom were resident DJs at various Chicago clubs. But that's another story.
The truth is, with the decay of disco music and the boom of house music –with collaborators in radio stations, record labels and record manufacturers pushing the style forward–, a group of producers experimenting in these genres began to incorporate the Roland TB-303 synthesizer to their work. From then on, the style never ceased to expand, spreading to several international markets such as Europe and becoming a phenomenon in Britain. In the end it was the perfect excuse that drove an entire generation towards a youth revolution.
THE SECOND SUMMER OF LOVE
London's club Shoom opened in November 1987. Owned by Danny Rampling and his wife, it was one of the first clubs to introduce acid house in Britain and it turned hundreds of talented musicians into the new music style. It was extremely exclusive and featured thick fog and, of course, acid house, creating a dreamy atmosphere. This period began what some still call the 'Second Summer of Love' –a movement that takes its name from the famous Summer of Love in the USA in the 1970s–, credited with a reduction in football hooliganism: instead of fights, football fans were going to clubs and joining the other attendees under the effects of a few psychotropic drugs.
Shoom was the first club to introduce acid house across the region and, to many, it was a way of life. Located in a gym called Fitness Centre that held 300, where there were walls of mirrors, the club attracted a very broad mix of people, such as Boy George and Paul Rutherford from Frankie Goes To Hollywood. 'Clubs in the 1980s could be quite rough in England, full of idiots who liked drinking and violence', said Pete Heller to The Guardian. Heller DJed at the Rampling club when it reopened at Busby. 'But in Shoom there was none of that. They insisted on an open-minded, positive, friendly vibe. If you didn't have that, you weren't coming in. It was quite a commitment. It wasn't somewhere you could sit down comfortably in the corner. Shoom was a sweatbox.'
EXPANSION
Around this time, the following year, a club called Trip opened in June, led by DJ Nick Holloway, who had travelled to Ibiza in 1987 with Danny Rampling, Johnny Walker and Paul Oakenfold to celebrate Oakenfold's birthday. The quartet had come back home inspired by the incredible Balearic sound. Trip was located in London's West End, and it was geared directly towards the acid house music scene. It was known for its intensity and stayed open until 3 AM, at which time the patrons would spill into the streets chanting and drawing the police on regular occasions.
The bad reputation that occurrences like this created along with the UK's stringent anti-club laws started to make it increasingly difficult to offer events in the conventional club atmosphere. Because of this, and because after-hour clubbing was considered illegal and against the law in London during the 1980s, the groups of club-goers began to assemble inside warehouses and industrial venues in secret to avoid police raids, marking the first developments of the rave. Two well-known groups at this point were Sunrise, who held massive outdoor events, and Revolution in Progress (RIP), known for the dark atmosphere and hard music of their events.
The Sunrise group threw several acid house raves in Britain which gathered serious press attention. In August 1988 they threw what is considered the biggest acid house rave ever, near Reigate, Surrey. The event was held in fields adjacent to a school and it ran from Saturday 10 pm to Sunday evening. Approximately 20,000 people attended, and the lines of cars exceeded 5 kilometres. It received significant press coverage. From then on, acid house stood on its own two feet and didn't depend on anyone to be considered a genre in its own right.
ORIGINS
The earliest recorded examples of acid house are a matter of debate. It is generally considered that the Phuture's 'Acid Trax' is the genre's earliest example, with its typically acid sound given by the TB-303. DJ Pierre, a member of Phuture, says the song may have been composed as early as 1985, but it was not released until 1987. Others point out Sleezy D's 'I've Lost Control,' released on vinyl in 1986, was the origin, but it is impossible to know which track was created first or which one was the genre's precursor. The only certainty is that 'I've Lost Control' was the first track released on vinyl and that both songs were important for the genre to flourish.
'The whole thing wasn't just based on drugs, that's a misconception,' said Danny Rampling to The Guardian in November 2017. 'Yes, there was a revolutionary new music, acid house, and with that came a stimulant, ecstasy. They kind of went hand in hand and it was a very positive, profound experience for a lot of people. But for me, primarily, it was about the music', he said, in defence of one of the key periods of the electronic music scene and its strong connection to British society.
Dave Haslam, a DJ at The Hacienda and author with first-hand experience of the phenomenon, remembers those times as a true social explosion that still needed to establish a few ground rules. 'No-one knew how to dress. People wondered, "Should we wear shoes or sneakers to dance to this music?", "Should I put on a T-shirt or a button-front?" By early 1988, there were still people coming to The Hacienda with shoulder-padded suits and, all of a sudden, it was all jeans and T-shirts.'
In London, a few DJs –such as Maurice and Noel Watson at Delirium, Colin Faver and Eddie Evil Richards at Camden Palace, Jay Strongman and Mark Moore at Heaven and Dave Dorrell at RAW– were the first to play house music, but in 1988 things really exploded. A new generation of clubs such as Danny Rampling's Shoom, Nicky Holloway's Trip and Paul Oakenfold's Spectrum were the scene's main venues in the capital, along with The Hacienda in Manchester and Sheffield's Jive Turkey to the north. 'It was so new, and so different to anything you had experienced,' explained Paul Roberts from K-Klass, who described being torn between his wish to tell the whole world about it and the need to keep it secret and special. But isn't that one of the internal battles one has to fight when one belongs to an underground movement?
This time, it couldn't be kept secret. The speed at which acid house exploded in the summer of 1988 took everyone by surprise. In a pre-Internet era, the phenomenon spread by word of mouth and the urge of club-goers to share their experiences made numbers grow week after week. The revolution was so great that it spilled out of the clubs. Those people who had been touched by the second summer of love recognized each other when they passed by on the street. The tell-tale signs were their clothes, their hair styles and their absent-minded smile when they looked out of a bus window, waiting for the weekend to go dancing at one of those novel clubs. Groups of friends started to be divided between those who had had their revelation at one of the clubs and those who hadn't been converted yet – although, sooner or later, they would be. From then on, acid house has followed its own path…
ACID HOUSE CLASSICS
Sleezy D – "I've Lost Control"
Trax (1986)

As far as is known, Marshall Jefferson's 'I've Lost Control' was the first acid house track to be released on vinyl. We hear a 303 over TR-808 beats, with a scary vocal losing control over the top. The most acid stuff ever made by Marshall Jefferson.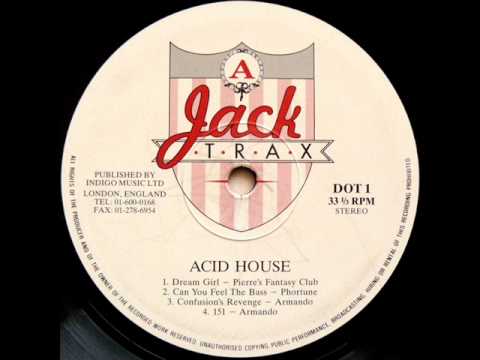 Armando – "Confusion's Revenge"

Westbrook Records (1987)
In 1987, Armando Gallop released an acid stormer on Westbrook Records entitled 'Land Of Confusion.' Once again the 303 was the protagonist but this time the drum machine was a TR-707 giving a more jerky feel to the beat in contrast to the more rounded analogue vibe of the 808. On a 1988 acid house compilation is this remake 'Confusion's Revenge' which ramps up the trippiness a few degrees by adding a great vocal about the story of acid.
Bam Bam – "Where's Your Child"
Desire (1988)
The Westbrook Records label, which released Armando's 'Land Of Confusion,' belonged to a guy named Chris Westbrook, better known as Bam Bam. This track is his finest hour, a rather slow
paced dark acid tune, with pitched down vocals and satanic sounds over a steady 808 beat. One of several acid house tracks released by Bam Bam on Westbrook.
Charles B & Adonis – "Lack of Love"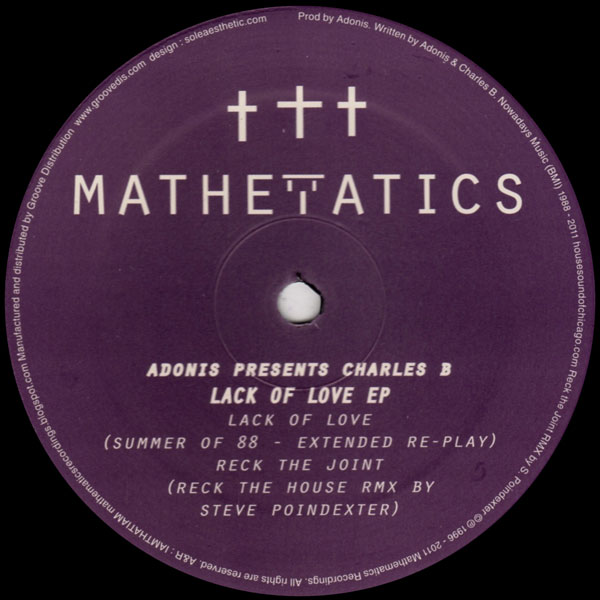 Desire (1988) 
Another track released in the UK by Desire. It's got a real vocal sung in an un-effected voice, the beat changes in different sections, and there are piano chords and amazing acid sparks. It's a great production by Adonis, who gave acid a more traditional approach. It's one of many outstanding productions released by the Chicago-born pioneer.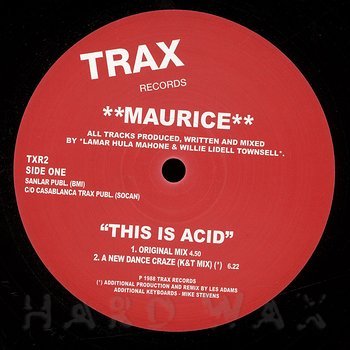 Maurice – "This is Acid"
Trax (1988)
To many, this is kind of the theme song of acid house – Maurice rapping over an equally acid and funky line, with the 808 cowbell as heard on many records of the era. 'This is Acid' appeared on the same EP as two other superb acid tunes: 'Feel The Mood' and the smutty 'I Got A Big Dick.'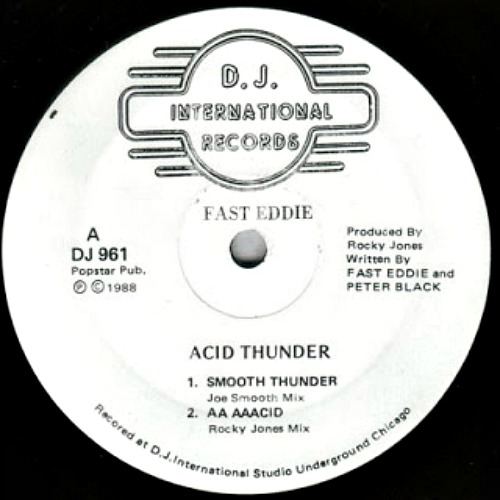 Fast Eddie – "Acid Thunder (AA AACCID)"

DJ International (1988)
Iconic artist Fast Eddie's Jack To The Sound LP includes the original version of this track, a rather cheesy number with strings and vocals, but this version from a later vinyl release is pure acid. It features great 303 and 808 action and a theatrical ending that never loses the acid vibe. A timeless piece.
Phuture – Acid Tracks
Trax Records (1987)
The original title for this song was 'In Your Mind.' DJ Pierre from Phuture had given a tape of the track to Ron Hardy to play at the Muzic Box in Chicago and Hardy labelled it 'Acid Tracks.' So the name stuck and the song was issued under this title. According to DJ Pierre the 'acid' in the title of the tape was a reference to LSD as this was a popular drug at the club. It was not a reference to the sound of the Roland 303. Whatever the case, it ended up giving a whole movement its name. It runs for 11 repetitive minutes and to many, it is the theme song of acid house. It still gets played and everyone considers it a timeproof classic.