English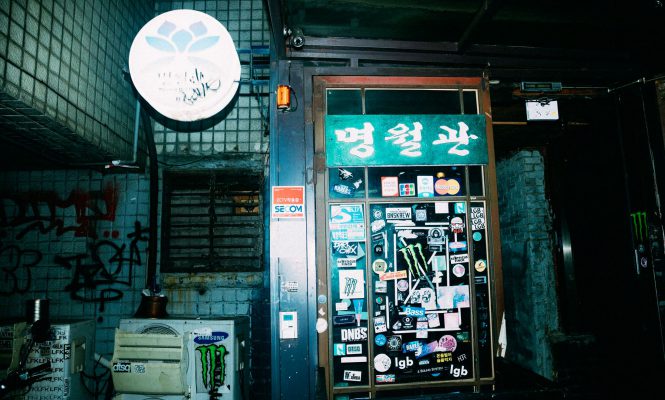 Club MWG: the first-ever Korean club to hit its 25th milestone
"Long live MWG!"
Words: Tiffany Kim, Kevin Kang (translation)
MWG is one of the first generation of Korean underground clubs, and it is marking its 25th anniversary this year. Most of the venues representing the early Hongdae scene has closed down, and a number of their counterparts in Itaewon followed the same fate this year. Considering the fact that Berghain—a world-famous techno club located in Berlin—hasn't even turned 20(Est. 2004) yet, it is surly a miracle to see how a local club like MWG has managed to stay true to its roots for 25 years. Aside from establishing the club concept as opposed to the more popular "nightclub" culture at the time, MWG also holds its title as the first electronic club in the country, and numerous first generation DJs—who are now curators of large clubs—have passed through its doors. DJ Mag Asia sat down with MWG representative Eunhee Kim, to talk about the 25th anniversary and the drive behind surviving some bumps along the way.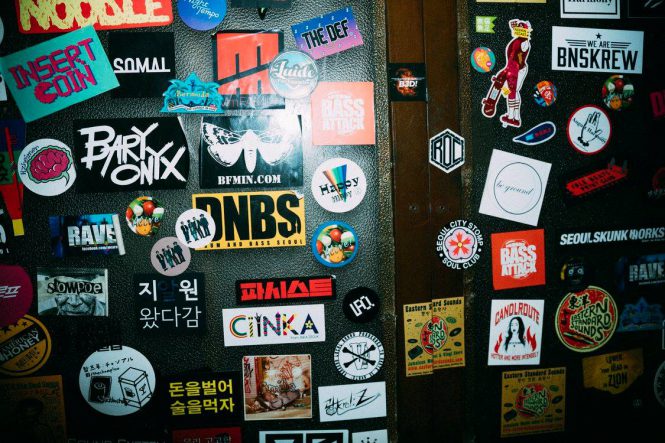 Q. How do you feel about MWG's 25th anniversary?
"I'm in awe and I feel pressured at the same time. Given the fact that we're the first club to last this long, many people are paying attention to us, and I also feel the weight on my shoulders to pave a new path. I also want to add that the annual celebration of MWG's birthday is not about showing off our history; it's rather an event for us to thank the people and the DJs who have come through the venue throughout the year. I want to thank all the people by saying 'Thanks to you we've survived another year.'"
Q. Did you envision this longevity when MWG first opened its doors?
"We started a club called Hwanggumtugu in 94', and as we relocated to our current location we switched our name to MWG. MWG was the first local venue to label itself a club, and it all started from this idea to spread the concept of a club. There's been four representatives since the days of Hwanggumtugu, and I'm the fifth one taking over my predecessor since 2010. As an avid lover of the club myself, I've always been rooting for the slogan 'long live MWG', but I do sometimes feel like we have no foresight whenever we face small and big obstacles along with the rapid changes in trend and diversifying taste. Nevertheless, as long as I'm in charge, I plan to always stand by one thing: to stay true to our roots as MWG."
Q. I'm pretty sure MWG's been through a lot for the past 25 years. What would be the biggest challenge so far?
"Everyday is a struggle to be honest," she laughs. "But to name one, I would like to talk about 'MWG's self salvation party' that took place in March, 2016. At the time, MWG was registered as a restaurant due to its close location to the residential area. The practice was widespread among majority of the clubs in Hongdae area, and Mapo district, aware of this situation, launched an ordinance to allow those venues to operate as a club by designating them as 'dance permitted establishments'. The problem was that in order to comply with their standards, the venue had to be equipped with grade 1 safety facilities, which required a huge amount of funding for fire protection, electricity, and more. The sum was around 30 grand, but we couldn't afford to pay it with such short notice. So the clubbers and DJs voluntarily participated in the 'self-salvation' party and donated money, allowing us to operate in Hongdae. The people behind MWG are the first generation DJs and clubbers who's been with us for the past 25 years, and our policy to never give in to the main stream influence is our commitment to those people that we'll never break."
Q. As a person who's witnessed the local underground scene as well as the Hongdae scene for a long time, do you have any hopes or wishes for the scene?
"I mostly wish that all of us could support each other with an open mind. Cooperation is the key to surviving against capital-driven businesses in a tiny market. It's sometimes a fresh experience to meet various DJs and clubbers of diversified taste, but I do miss the strong bond that we had in the 90s. I hope for a scene where senior DJs get their respect, and in turn provide support for the up-and-coming acts. Moreover, I wish everyone who loves this scene would stay a little bit more open and think out of their boxes."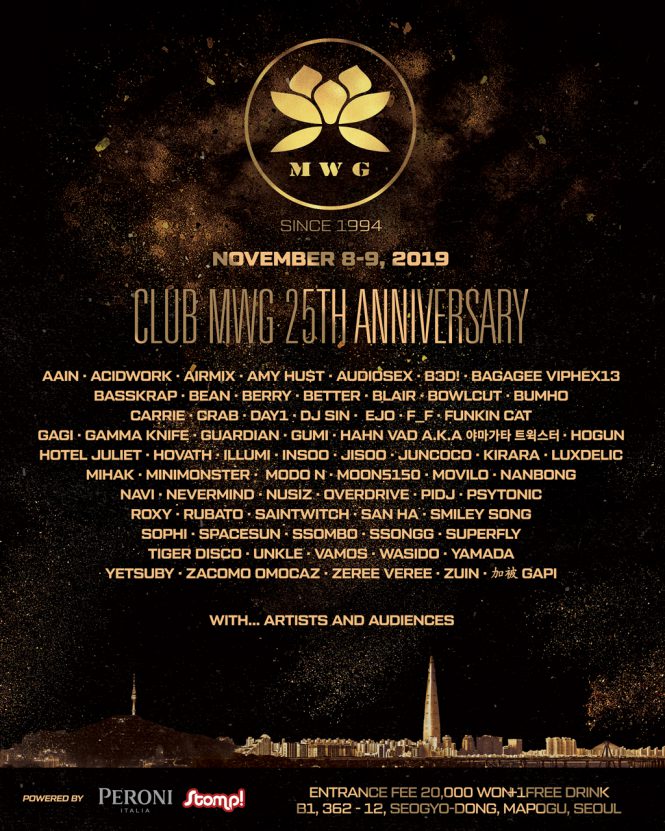 Flyers are out for MWG's 25th anniversary party, one that boasts a stellar line-up every year. This year's event also features more than 60 DJs spread out over two days. Superfly, Rubato, Bagagee Viphex13, DJ Sin, Psytonic, Bowlcut, and many more of Korea's finest DJs are listed on the line-up.
The party will be held for two days, starting on Friday 8th November and ending on Saturday 9th. Timetables for the event will be announced via MWG Instagram(@clubmwgseoul) and Facebook(@clubMWG).