English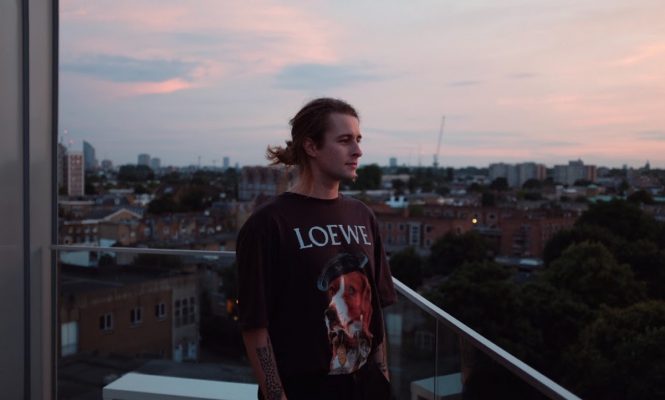 FROM LO-FI TO TECHNO: MALL GRAB IN SEOUL
Meet the young artist injecting the house/techno scene with fresh new energy
Words: Kevin Kang
After making his debut four years ago, Mall Grab has been injecting the house scene with fresh and cool energy. The artist's moniker comes from the skateboard lingo mall grab, which an unconventional way to hold the skateboard by the trucks, something that is usually frowned upon by many skateboarders due to its impracticality. Like his name suggests, his music, too, is quite different from the norm. From adding vintage textures that resembles listening to an old LP that you dug up from the attic to sampling multiple hip-hop as well as grime numbers, the artist's soundscapes are laden with fresh touches that are rarely found in the works of his counterparts.
While hailing from the same country that produced giants such as Flume and Chet Faker, Mall Grab, a.k.a, Jordan Alexander, started his musical career in Newcastle, Australia—which is not the most trendy place for electronic music. However, Jordan's music quickly gained popularity thanks to various channels on the Internet including YouTube and Soundcloud. The young artist's tracks were introduced via notable house music channels such as Slav and hurfyd, and he has also released multiple EPs and singles under burgeoning dance music labels Shall Not Fade and Hot Haus Recs.
I would say that "eclectic" and "fresh" are probably the most accurate terms as far as describing Mall Grab's music in two words. From the very dawn of his career, the artist has been mixing an array of styles that covers lo-fi, disco, old school, techno, and more behind the decks all around the world. Recently, Mall Grab has been venturing outside the boundaries of the house genre, gracing us with series of heavily techno-infused albums through his own label LFT. From the 4 track EP titled 'Moogie' that he released with another Australian export Nite Fleit, to his more recent works including 'Growing Pains' and 'Strangers', the dance music extraordinaire has been racking up some serious techno bangers—which was why, in my opinion, it felt so natural to see him at Faust, one of the most original techno clubs in Seoul.
It was late December, and the holiday spirits were in full swing. The streets of Itaewon were already bustling with college students and office workers celebrating the last days of 2019. Worried that there would be another painfully long line like the last time when Jeff Mills came to Faust, I hurriedly made my way over to the venue. I was in luck: after waiting in a short line, I entered its doors around 1. Faust was already filled up with intense energy and there were surprisingly a lot of people, even considering the fact that there was a Boiler Room party on the same day and Herrensauna party the day before. A resident DJ at Faust, DJ Damie was spinning behind the decks, charming the crowd with her unique energy laden with with both warm and cold feels. As a supporting act, the DJ surely showed her capabilities as a pro DJ—managing to make the crowd dance whilst keeping the energy levels under control.
After an hour of incredible warm-up set by Damie, it was finally time for the best part of the night. As the time grew closer to 2, we saw more people moving into the venue. While we were bopping to the thumping four-to-the-floor kicks, a friendly face appeared behind the decks. Everyone cheered as the young producer/DJ with his skater-esque hair took over, who then started to drop massive techno bangers, blowing everyone's mind from the very beginning. The artists' set clearly embodied his sonic universe, one that is characterized by his fresh, creative takes on techno music. Old school rave infused soundscapes and savage kicks pierced our eardrums, while catchy samples breathed life into the minimal arrangements.
It was not just the superb selection of songs that made his performance the highlight of the night; the artist also graced us with countless numbers of his original tracks and edits. From the earworm track '?' that features samples taken from grime artist Wiley's 'And Again' to the bass-packed numbers such as 'Temperature Rising' and 'Growing Pains', Mall Grab's set was filled with his own energy. And if that wasn't enough, the DJ also entertained the crowd with his unreleased tracks including 'Sheer Fuck Offness' and 'Sunflower'. Mall Grab flooded the speakers with his hard-hitting gems, and he kept the intense energy going for the entire two hours of his set.
Like what they say in the comments on YouTube, it might be true that Mall Grab is "growing into a techno demon". If you've been a fan of his former lo-fi albums or funky numbers like 'Pool Party Music', you might have mixed feelings about his new works. However, what I could tell you is that his recent venture into techno has led him to produce one of the freshest tracks, and this prolific artist still has so many unreleased gems—most of which he plays at during his sets around the world—a lot more to come from the young artist. Stay tuned.