English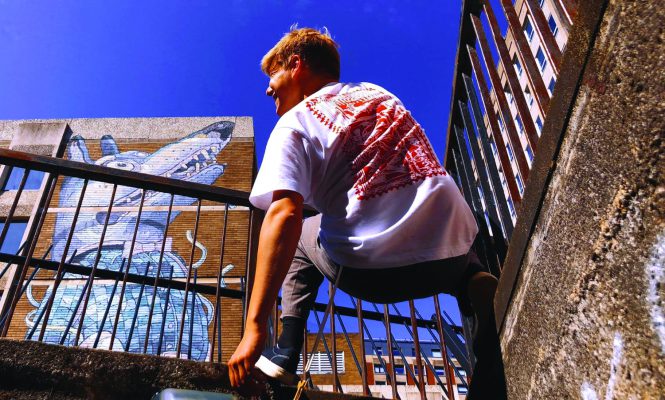 MUSIC REVIEWS: BASS
Music Reviews
Henry 
Greenleaf
Patent
 EP
Glasstalk 
9.0 
If there's a buzzword for this review, it should be 'scale', in that Henry Greenleaf's productions — whether they're lithe and feathery like 'Inch' or chunky and bruk like 'Tare' — have a very grandiose sense of it. And frankly, it's fucking wonderful to hear someone doing bits with one eye on precision production, the other on groove and the third eye on scope. Any comparisons to Mickey Pearce feel justified in terms of the drum syncopation, but where Pearce has his tongue in cheek, Greenleaf feels a little more serious, twisting sheets of noise absolute into walls of sonic impact on cuts like 'Caved'. 
Mono/poly
Stacking Ones
20/20 LDN 
7.0  
Already established as something of an unsung hero of the Cali-adjacent beat scene, Mono/ Poly's new single for 20/20 LDN merges some of that sundrenched attitude with some frank and hard-ass drum work. Both 'Stacking Ones' and the flip 'Teach You All A Lesson' are big, loud and direct, but no one is looking for subtlety in a club setting. You can't turn up to minute harmonic shifts, innit. 
Bengal Sound
Young 
Skeleton
Innamind Recordings 
9.0 
It's not a cuss to say in print that Bengal Sound's latest two-tracker for Innamind is something of a simple pleasure. It's more that the lad's ability to make a rather staunch and straightforward, head-nodding, halfstep beat sound refreshing is an absolute touch. On both 'Young Skeleton' and 'Coroners', he's mining his own sound with a clutch of delightfully obtuse sample sources. Swirls of strings propel 'Young Skeleton' into a screwface slurry, while ascending jazz loops pepper 'Coroners' with soul. Basically yeah, he's operating in the slip-stream of bonafide dons like Commodo and making those weirdo monster neck snappers. 
Pinch
Border Control
Berceuse Heroique 
7.0  
The Tectonic boss breaks the semblance of radio silence with a three-tracker for the Berceuse Heroique label, which certainly shows a harsher, aggier, more greyscale side of Pinch's production. It's all wonderfully bruised and brutal, with the tracks landing somewhere between dubstep, techno and a squall of noise. Rather importantly, each of the cuts share a collective breath that sounds like a cloud of static scuffing up everything it touches. 
Gerra
 & Stone
Breach
SGN:LTD 
7.5  
From the first two dark and deadly rollers, into 'Reasons' — liquid which can be described as no less than sublime — it was hard to pick which track to highlight from this LP. But we've decided to go for the finale, 'Breach', because for us it's everything drum & bass should be. This track encapsulates the early Shogun vibe, that this label's big brother used to carve the arrow that forever pierced our heart. Melancholy and menace come through the bass, while smooth, sexy touches of light subtly decorate the melody 
The Caracal 
Project
Charmes
NËU Music 
7.5  
The first time we heard these guys, we were so gassed. We're talking capital G-A-SS-E-D, seriously, if we were a canary we'd be on the cage floor. There's just something remarkably fresh about them, unafraid to blend styles and step out of formulas, keeping the genre moving forward. 'Charmes' is an odd mix of musicality, from the swing in its stepping beat and the 16-bit computer game-style FX, and the serious funk brought in through jazzy clicks and well placed glitches. 
Fade Black
Sane ft. Leo Law
Critical Music 
7.5 
This is the first single taken from Fade Black's forthcoming EP on Critical, and it's really not what we expected. This tune is signed and sealed with all the hallmarks of the imprint — sinister low-end, itchy, shuffling drums and minimal, fizzing static buzz — but the soulful sing-along vocals and bright, uplifting tone of the synths channel a hybrid of melancholy liquid and sinister tech. Stick your flag in guys, you've got it conquered. 
DJ 
Hazard
I Am 
Darkside
Playaz 
8.0 
It's been five long years since we heard anything solo from the studio of the undisputed king of jumpup. With this release, we get a taste of his take on the modern jump-up sound. This track uses ongoing uneasy-on-the-ear high pitches on top of devilishly dark undertones and hard-stepping percussion, a tongue-in-cheek vocal sample (think Let It Roll Opening Show), and 
demonic, clownish jerking synths to bring that familiar mix of fury, f ilth and humour. 
Stompz
Blow
My
Mind
Souped Up 
7.0 
Souped Up is def initely a label that's done bits this year. From relatively unknown, to one of the more ferociously followed. Yep, there're people about with tattoos of angry looking pumped up tins of Campbells, but when you consider its output, it's hardly surprising. At its core, 'Blow My Mind' is a creepy atmospheric roller brought down to far murkier depths with the sound of the moment; that loud, domineering foghorn. 
Samba
Winona
Deep Medi Music 
9.0 
Sometimes being put on by a label such as Deep Medi is enough to boost your profile, but it's actually thanks to SoundCloud's continuous play feature that Samba's nut-soup four-tracker for Mala parades its way into these here review pages. 'Snakes. Egos' is precisely my kind of 
harshly high-pitched, woefully discordant bleepy jam, but the flutey bits on the title track 'Winona' properly hurt me too.  
Miracles
Memory
 Ha
48k 
8.0 
A sharp blend of the weightless grime aesthetic filtered through a desire to explore negative space gives Miracle's 'Memory Ha' EP a buoyancy that is very hard to dislike. Take a cut like 
'Creepy Touch': cloudy synth lines ripple at the peripheries before dissipating into pools of reverb, vocal samples are snatched and delayed, and the drums are staccato and punchy. The whole release rolls at this calm and content slower momentum.