English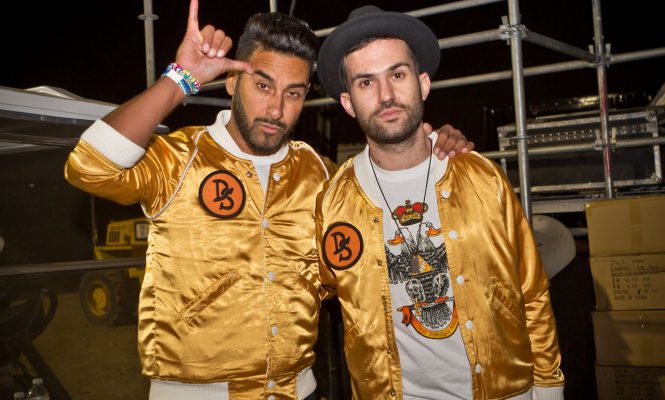 MUSIC REVIEWS: HOUSE
Music Reviews 
Duck Sauce
Smiley Face
Duck Sauce 
8.0 
Duck Sauce are back! It's been 6 years since the duo comprised of A-Trak and Armand Van Helden dropped a record. In the past, they've released some goofy, chart-topping disco hits—one that includes the band's iconic 2010 hit 'Barbra Streisand'. The duo's recent effort taps into the catchy, disco/house energy that they've always been known for. There's more to come from this euphoric duo so stay tuned.  
Mall Grab
Sunflower
Looking For Trouble 
8.5 
Mall Grab aka Jordan Alexander starts 2020 on a high note with his 'Sunflower' EP. As a former poster boy for lofi house, the artist shifts away from his groovy tunes to thumping, dance-floor friendly techno numbers on his recent effort. The album is laden with rave, hardcore atmospheres suitable for the peak time. From the euphoric rave feels of 'Hidden Worlds' to the high-octane energy of 'Switchblade', the artist manages to channel his positive energy throughout the entire album.    
Caribou
Never Come Back
City Slang 
9.0 
Dan Snaith has been leading a busy life, releasing a slew of tracks under his Daphni moniker; which only left us craving more for Caribou—his other project. Well, it looks like our thirst for Caribou's music will finally be sated. The artist dropped 'Home' and 'You and I' right after sharing the news of his upcoming studio album. Now, Snaith is giving us the latest taste of his much-anticipated album with another pre-release track titled 'Never Come Back'. "'Never Come Back' was the first track from 'Suddenly' that I finished. It came together very quickly and was one of those tracks that is a lot fun to make," Caribou says. The artist said that his recent effort already made the list of his top electronic tracks of 2020. 
Eris Drew
Fluids of Emotion
Interdimensional Transmissions 
9.0 
Debut EP from one of the main artists of dance music's underground. The title track is spacey and swinging, a potential set-stopper in the right DJ's hands.  
Cosmic melodies that build slowly as the rhythm shuffles whit lots of psychedelia and a deep bassline. Robotic and percussive, the whole aura makes it an instant classic. 
A new era for Eris Drew starts as 2020 progresses. 
Meduza 
Born To Love ft. Shells
Defected Records 
8.0 
Italian trio Meduza took the world by storm with the hit "Piece of Your Heart" last year. That's why Defected team looked at what was next for the dance music group. Finally, "Born To Love" found its home on Simon Dunmore's platform, a place where house lives.  
As a classic piece of house music, Meduza keep up the good work with this new one. Deserves some attention. 
Donald's House
Rainbow Gelato
Touch From A Distance 
9.5 
A masterful release from siblings Jim and Pete Isaac from Melbourne, aka Donald's House, their second for Nick Höppner's Touch From A Distance. 'Marimbanana Loaf' from their 'Dan's Dancing' EP remains one of the finest releases this year. This four-tracker is no less exceptional. 'Rainbow Gelato' is laden with irresistible Korg M1 chords, and a grunting, propulsive bassline, breaking down to its barest percussion before riding back triumphant. 'Pseudo Affogato' echoes the classic sounds of Tevo Howard, while 'Piano Parfait' rides Italo pianos to glory. Untouchable. 
Jules
Fool
Innervisions 
9.0 
An indisputable big room anthem from Zurich producer and Watergate regular Jimi Jules on the eminent Innervisions (it tore up the place at the label's showcase at Sónar in the summer). With a dark, enveloping hoover bass, urgent keys and Jules' breathy vocals ("Just a fool, just a fool in your eyes"), this is moody and magnificent. On the flip, 'My Father Was A Master' takes 
a similarly foreboding tack, with added rave stabs. 'Gubrist' builds bleeps and tones to a shattering crescendo. Watch this grasp terraces next summer.  
Cormac
Perfect Time
Correspondant 
8.5 
A rare excursion on wax for Panorama Bar resident Cormac here, on Jennifer Cardini's Correspondant. His original cut is a murky, mucky slo-mo groove, woozy and weird, hollow 
percussion cutting through the haze. LA's Eagles & Butterflies turns in two sturdy re-rubs, his 'Main Mix' working in a surging bassline and an epic break, retaining the breathy vocals. The 
'Rave Mix', meanwhile, hurls in layers of brassy synths and Vangelis vibes come the final act. 
Very pleasing. 
Maurice Fulton & Peggy Gou
Jigoo
Gudu Records 
8.5 
Bubbly and airy, "Jigoo" is the collaboration between Gudu owner Peggy Gou and iconic producer Maurice Fulton. As part of the latest EP, this song is a good example of what both producers con provide to the dancefloor.  
Messy at times, "Jigoo" presents a daring melody that, at least, it will work for at the afterparty.  
Justin Martin 
Needs
What To Do 
9.0 
Dirtybird affiliate Justin Martin leaves the nest to embark on a journey with the launching of his own label What To Do, aiming for a more serious, deep-seeded sound. 
This song has been a fan favorite in his DJ sets for almost two years and now he's got the samples cleared to start his plaformt with a bang. Heavy synths with a dark edge. Raw for the dancefloor.