English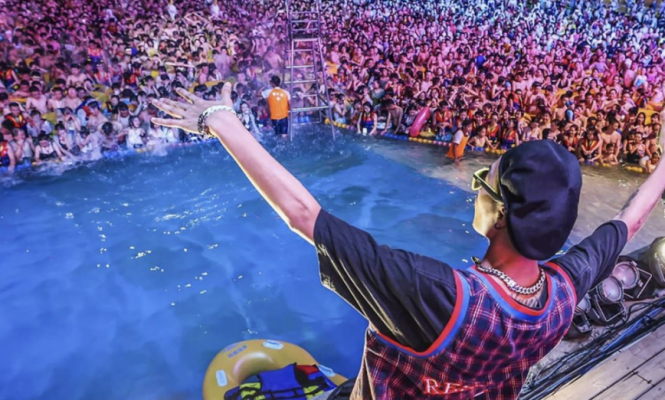 THOUSANDS GATHER FOR ELECTRONIC MUSIC FESTIVAL IN WUHAN WATER PARK
The Wuhan Happy Valley-owned water park is currently welcoming 15,000 visitors per weekend
Words: DJ MAG STAFF
Thousands gathered for an electronic music festival at a Wuhan water park last weekend.
Wuhan Maya Beach Water Park, owned by Wuhan Happy Valley theme park, hosted an electronic music festival last weekend (15th & 16th August), which saw thousands of partygoers swimming, playing pool games, and dancing shoulder-to-shoulder in front of DJs. The park is currently visited by over 15,000 guests each weekend.
The Chinese city of Wuhan went into lockdown on 23rd January, at the time when COVID-19 had killed 17 people and infected more than 400. The city has slowly been reopening since March, and neither Wuhan nor the Hubei province have had a local coronavirus case since mid-May. Around 9.9 million people in the city have been tested for the virus, and there are currently no bans in place on large public gatherings.
While cities like Wuhan are gaining some sense of normality post-pandemic, countries in Europe are struggling to contain the virus. Both Spain and Italy were among the earliest and worst-hit countries during the initial COVID-19 pandemic, and have recently announced the second wave of club closures following a spike in COVID-19 cases in under 40s.
Elsewhere, France's ban on gatherings of over 5,000 people was extended last week following news that new coronavirus infections in France have almost doubled in recent weeks. Amid the pandemic, illegal raves are on the rise across Europe, as well as sanctioned, legal open air dance music events.
Wuhan wave.

People watch a performance as they cool off in a swimming pool in Wuhan, China pic.twitter.com/sPIdpAmQ6G

— AFP news agency (@AFP) August 17, 2020