English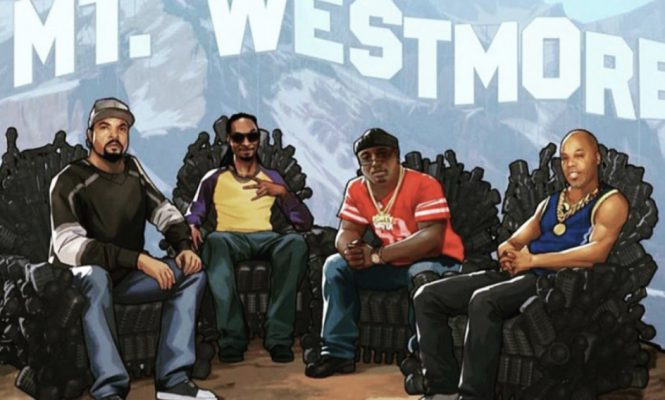 SNOOP DOGG, ICE CUBE, TOO SHORT, AND E-40 FORM HIP-HOP SUPERGROUP, MT. WESTMORE
The debut album from the group lands in April
Snoop Dogg, Ice Cube, Too $hort, and E-40 have formed a new hip-hop supergroup.
Dubbed Mt. Westmore, the supergroup of West Coast rappers was first revealed last year on the Serch Says podcast by Too $hort, who became involved in the project after a phonecall during lockdown from E-40 and Ice Cube.
"So I get a call during the early part of the quarantine from E-40 and Ice Cube going, 'Man, we feel like we should do an album. Me, you, it's E-40, Cube, Too $hort and Snoop Dogg," he told MC Serch. "And I'm like… E-40 and Too Short are from the Bay, Snoop Dogg and Cube are from L.A. and we are like the West Coast foundation.' We sat there and was like, 'F*ck it, let's do it.' So, we start coming up with beats,"
The first, self-titled LP will drop in April this year, and E-40 and Too $hort confirmed that another West Coat pioneer, Dr. Dre, will feature on 'Mt. Westmore'.
The group previously shared 'Step Child', which featured on the soundtrack for 2019 film 'American Skin'. Check it out below.
(Photo via BrooklynVegan)
Yesterday, West Coast rappers Cypress Hill released their first single since their 2018 LP.
On Monday, Death Row Records announced that the label would reissue four classic albums via cassette from the imprint's back catalogue, including 2Pac's 1996 LP 'All Eyez On Me' and 'The Don Killuminati (7 Day Theory)', recorded under 2Pac's Makaveli alias one month before his death.