English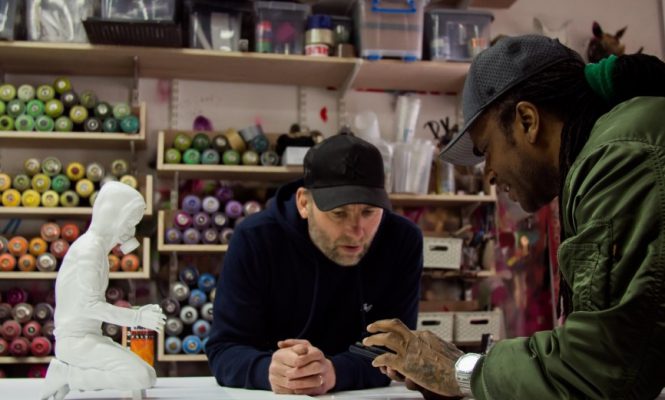 THE PRODIGY'S MAXIM UNVEILS NEW MUSIC AND ART PROJECT WITH LONDON ARTIST DAN PEARCE
The collaboration takes in sculpture, a short film and a new four-track Maxim EP
Words: BRIAN CONEY
The Prodigy frontman Maxim has teamed up with London artist Dan Pearce for a new music and art project.
Centering on the experience of lockdown during COVID-19, 'Hope' takes the form of 50 limited-edition sculptures, depicting a young boy – based on Pearce's son Jackson – wearing a gas mask and preparing to pull the pin on a resin grenade. Containing a heart, it symbolises the vaccine and "the hope that will help us navigate our post-lockdown worlds."
Launched at London's new 99 Projects gallery on 19th May, the project is accompanied by a short film. Featuring Jackson, Maxim and new music, it tells the story behind the sculpture. Alongside three other tracks, the film's soundtrack doubles as a four-track Maxim EP. Also titled 'Hope', the release is exclusively contained on bespoke memory cards inside the sculptures.
Speaking about the collaboration, which is open to the public from 7th June, Pearce said, "We've known each other for a few years as we both exhibited art at the same galleries and attended each other's exhibitions, so we always chatted about doing a collaboration. "Lockdown gave us that opportunity and we wanted the project to deal with this difficult year, while demonstrating the positive message about the role hope now plays."
"Making this has been exciting," added Maxim. "And it was really special to have a cameo, playing somebody who was homeless and was also an angel. "We are in times of uncertainty, but I believe the answer to our problems is the four letter word, 'love'."
Maxim and Pearce will be donating one sculpture to NHS Charities Together, one to young people's mental health charity, YoungMinds and one to homeless charity Shelter, to raise funds for those most affected by COVID-19.