News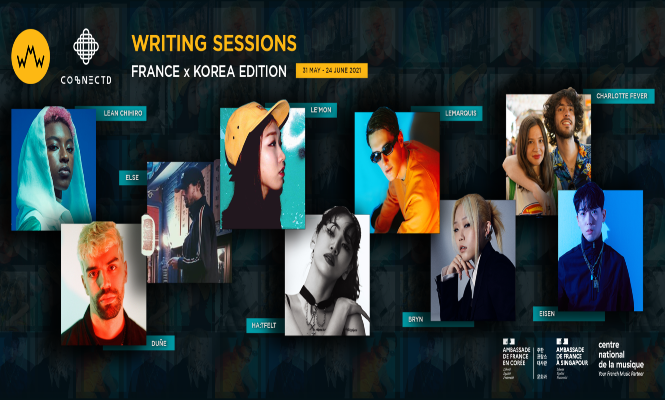 WIRED MUSIC WEEK x CONECTD | WRITING SESSION FRANCE & KOREA ARTIST ANNOUNCEMENT
Breaking Cultural Barriers Through Passion For Sound And Music
Wired Music Week, the Centre National De La Musique (CNM), and the French Embassy in Singapore are collaborating for a second edition of their innovative digital project allowing artists (producers, songwriters) from South Korea and France to meet and create together. The goal: to release and promote songs these artists compose during the 2021 writing session, while working on synchronization opportunities. A partner has been added to this session: the korean label CONECTD, whose mission is to connect Asian talents with the rest of the world.
Empowered by the first year's success of the 2020 writing session, these music enthusiasts are ready to break cultural barriers again, through aspiring musicians' passion for music. These nine artists from different backgrounds and environments will come together and showcase their strengths, as they challenge themselves to produce a new sound that best represents their talents. 
ABOUT THE ARTISTS
The lineup from Korea selected by CONECTD, in collaboration with the CNM and embassies, includes an ex-member of the global K-Pop sensation Wonder Girls who embarked on a new solo artist path – HA:TFELT. Joining her is a songwriter known for her unique dreamy writing style, Le'Mon – who has also worked with top tier K-pop artists like Taeyoun, Lee Hi, Dean, Super Junior, NCT, Monsta X, Oh My Girl, Only One Off, and more. EISEN, an electronica-based producer who delivers emotional, chill atmospheric vibes with danceable rhythm, sees himself joining this year's Korea lineup with BRYN – Korean female rapper and vocalist who made debut as a featured artist for Yang Hongwon's single 'Morning'.
The organizing committee has confirmed the final artists representing France: LeMarquis  – DJ/ Producer from South of France who has also succeeded in establishing himself as a singer-songwriter, Charlotte Fever – an adventurous duo formed by Cassandra and Alexandre, and DUÑE – a producer/ singer with a minimalist approach who has toured internationally across Europe, Asia, and Mexico. Joining the France lineup is also a producer who took the global TikTok trend by storm for 235 days in a row with his track "Paris" that emerged from Asia in 2020 – ELSE sees himself combining catchy melodies with raw rhythms into a new era of hybrid music. Last but not least, Lean Chihiro – a 20 year-old versatile artist whose activities vary between music, visual arts, and modeling completes this 2021 WMW x CONECTD Writing Session artist lineup from France. 
THE VISUAL ARTS [by Singapore Art Students]
New for this session: WMW x CONECTD Writing Sessions ties a partnership with the Nanyang Technological University (NTU) – School of Art, Design and Media and LASALLE College of the Arts for an exciting venture to inspire creative uniqueness and showcase visual talents of young art students in Singapore. The objective is to group these skillful students to create visuals for the tracks produced during the WMW x CONECTD France and Korea Writing Sessions. Final showcases will be presented during an online listening session that will take place by the end of July 2021. 
Nanyang Technological University – School of Art, Design and Media 
With Singapore being a cosmopolitan nation with Asian sensibilities, the School of Art, Design and Media (NTU-ADM) seeks to play a weighty role in transforming the island state into a global media city. Their interdisciplinary courses are designed to mould creative individuals into outstanding artists, designers, animators, new media performers and even business leaders. 
LASALLE College for the Arts
Asia's leading contemporary arts and design institution, LASALLE College of the Arts offers  programmes in fine arts, design communication, product design, film, animation, fashion, Asian art histories and creative writing and many more. The institution strives to inspire the next generation of forward-looking, globally engaged artists, designers and leaders of creative industries.