Music
Ares Carter x ILoveMakonnen Team Up for New Single "Next To Me" with Music Video Out Now via Heldeep
New York City, NY — Rising DJ and producer Ares Carter joins forces with ILoveMakonnen once again for their new single "Next To Me," a sultry dark progressive house tune that is certain to hypnotize listeners with a bold bassline and industrial sonic flair. Pairing ILoveMakonnen's seductive vocal seasoning with layers of Ares Carter's mesmerizing sound design, "Next To Me" sizzles and pops with danceable excellence. Infectious from start to finish, this irresistible dance track will beckon to all with its pulsing synths and thick basses. The single is paired with the release of an equally spellbinding music video complete with bright neon visuals flashing in unison with each sound. Out now via Heldeep, "Next To Me" joins a roster of striking collaborations between the two industry icons.
"When I first started DJing and uploading some mixes to Soundcloud for friends, Makonnen randomly reached out to me on there and told me he loved my mixes and was playing them at his parties. He was unknown at the time, but I thought he had some of the most unique music I had ever heard, so we always kept in touch. 
Fast forward a year or two, and "Tuesday" is now one of the biggest songs in the world. He suddenly became a superstar and had asked me to join him on tour as his official DJ. I was only 17 at the time, so I would be in high school during the week and then traveling the world with him alongside idols of mine like Skrillex, Diplo, and Kygo on the weekends. It was an experience I'll never forget and it gave me my first start in the music industry. From there I made it my mission to hone my skills as a producer and become an artist in my own right, so I think that making this record with him was a full circle moment and a big step towards that goal." – Ares Carter
With avid support from heavyweights such as Martin Garrix, Steve Aioki, and many others, Ares Carter has solidified himself as one of the most highly esteemed artists within the dance music empire. Having performed at some of the world's renowned festivals and events including Diplo's Mad Decent Boat Party and Ultra Music Festival in Japan and Korea, this masterful powerhouse continues to challenge the traditional and push boundaries with an ever-expanding sonic artillery.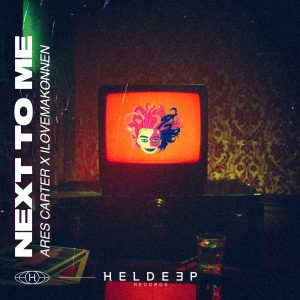 About Ares Carter:
Ares Carter is a DJ and producer whose career blossomed from an under-18 residency in New York City into headlining the biggest festival stages in the world. He's on a mission to push forward the boundaries of electronic music, armed with a freshly crafted sound aimed towards the international crowd. 
He started off as the official DJ for iLoveMakonnen, developing his skills as a globally touring DJ alongside the acclaimed hip-hop/pop artist. Not long after, performances at festivals like Electric Zoo NYC, Mysteryland USA, and Diplo's Mad Decent Boat Party helped turn Ares Carter into a desirable name across the United States, giving him the opportunity to open for A-list artists such as Diplo, Kygo, Martin Garrix, and Steve Aioki. After making his main stage debut at Ultra Music Festival in Japan and Korea in 2019, Ares took major steps into the booming Asian dance music circuit, headlining super-clubs in Seoul, Shanghai, Hong Kong, Macau, Tokyo, and various other cities throughout the region.
Ares Carter's single "Faking" amassed over 3 million streams to date. The track became a success on dance radio, receiving a coveted Billboard dance premiere, heavy editorial support from Spotify in over 11 New Music Friday playlists, and support from the likes of Martin Garrix, Afrojack, Oliver Heldens, and others. His official remix for The Chainsmokers' hit single "Push My Luck" also surpassed over 2 million streams across all platforms.
Welcoming the dawn of a new decade, Ares has spent the last few years locked in the studio developing a new sound in both his productions and live sets. His seamless blend of house music, pop, and underground influences is something you'll find yourself endlessly playing on repeat, attesting to Ares Carter's forward-thinking mentality in creating the sounds of the future.
Follow Ares Carter:
https://www.facebook.com/AresCarterMusic
https://twitter.com/AresCarterMusic
https://www.instagram.com/arescarter
https://open.spotify.com/artist/5fSYYJ4qdUSyvj2q0YdHEF
https://soundcloud.com/arescartermusic
Follow ILoveMakonnen:
https://www.facebook.com/ilovemakonnen
https://twitter.com/iLoveMakonnen
https://www.instagram.com/ilovemakonnen
https://open.spotify.com/artist/3aGFCoR8xGN6DKwvdzeSja
https://soundcloud.com/ilovemakonnen