English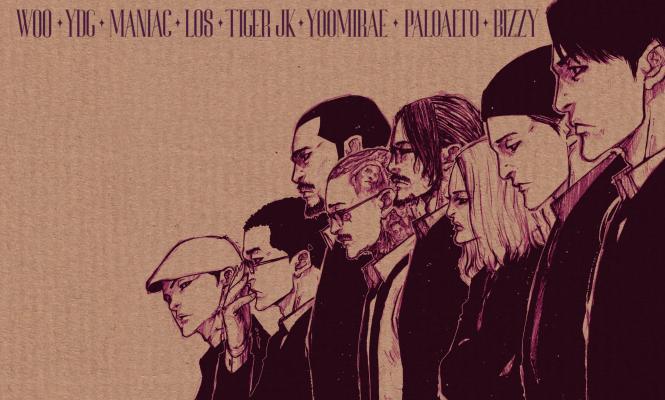 'Korean Hip Hop legend' Tiger JK and close Hip Hop artists make a powerful statement of UNITY.
Tiger JK is releasing a remix of his track 'Hosimsul (Love, Peace)'.
Words: DJ Mag Asia
'Hosimsul(虎心術)' (Ho Shim Sul) showcases the spirit of a fierce tiger and is a neologism based on the word '호신술' (Ho Shin Sul) which means self-defense.
'Hosimsul (Love, Peace)' already gained a lot of attention with its social message and massive scale so many fans are looking forward to the remixed version of 'Hosimsul (Love Peace)' which also features various artists.
While the original song focuses on resistance and opposition against racism, discrimination, and Asian hate, the remix will focus on unity and togetherness. YDG, Bizzy, Maniac, Palo Alto, Ross and Woo Won Jae answered Tiger JK's call and together they added their own rap and lyrics creating a new version of Hosimsul (Love Peace) including their own interpretation of unity and togetherness.
In the original MV the formal wear, M1 Calvin rifle and lyrics against violence and hate showed homage to Malcom X, a human rights activist during the civil rights movement. The remix will continue this message through unity.
Fans have shown love to the original track because they have been waiting for a new release from Tiger JK, godfather of Korean HipHop. The original MV quickly surpassed 1.3 million views along with numerous reaction videos. The track has also received high praises from the international press such as South China Morning Post and Rolling Stone.
Fueled by fan reactions of the MV, along with the remix, live clips, and director's cut are being prepared to be additionally released.
Tiger JK debuted in 1999 as a member of Drunken Tiger and is still highly influential in the Hip Hop scene. He contributed to the development of Korean hip-hop, bringing the genre into mainstream. Drunken Tiger's 10th regular album 'Drunken Tiger X: Rebirth Of Tiger JK' was one of Billboard's "Best K-Pop albums of 2018: Critic's Picks" and 'Timeless', featuring RM of BTS was number 1 on the iTunes chart in almost 26 countries.
Now, 20 years after making his debut with Drunken Tiger, ''Hosimsul (Love, Peace)' represents a new beginning for Tiger JK. His resume itself shows how deeply embedded his music is in Korea's Hip Hop music history and his message will without doubt touch people all over the world, once again.